QQI Level 6 - Leadership Programme for Nursing Homes (6N2191) - Minor Award
Is this Leadership Development Programme for you?
Are you working in a nursing home or care home environment? 
Do you want to progress your career to a leadership role?
Have you been promoted to a position that involves managing an organisation, people or teams in a nursing home or care home environment? 
WHY NOT GIVE US A CALL TO FIND OUT MORE ABOUT THIS PROGRAMME? Tel: 01 4974622
Course Overview
This Leadership and Management Programme for Nursing Homes leads to a Level 6 Component Award on the National Framework of Qualification www.nfq.ie. 
The aim of this Nursing Home management and leadership course is to provide those occupying the role of a manager within the nursing home with the key management and leadership skills that will allow them to build a high quality team that delivers excellent care for residents and their families in a culture of review and improvement aimed to drive forward best practice. 
We run our Nursing Home courses in Athlone, Dublin, Cork, Galway, Limerick and other parts of Ireland.
About the Course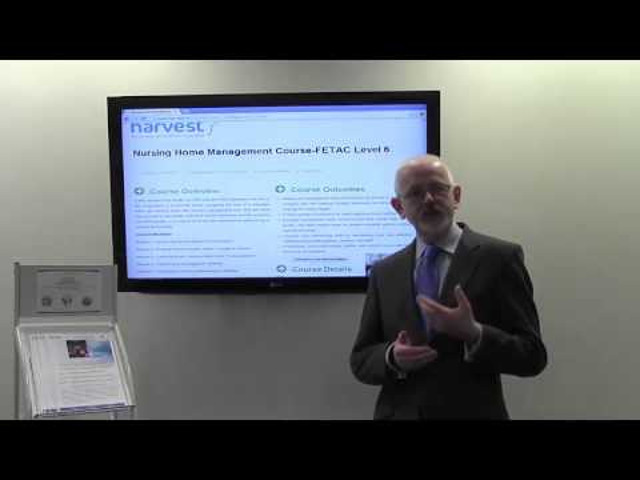 Testimonials 
'The programme  facilitator;  Barry Kavanagh delivered the modules in a  very interactive, person centered, knowledgeable and practical style, bridging the theory practice gap with relevant examples, case studies and skill practice'  
-Finola Bell, Firstcare Ireland
NEWS: Firstcare Ireland Nursing Home management programme participants were awarded with their QQI Level 6 certificates to read more click here.
'I completed the Harvest Nursing Home Management Programme. I found it extremely helpful to me . I am more empowered and more confident in dealing with staff and other issues that arise.' 
-Anne Costello, Tara Care Centre
About Course Tutor Barry Kavanagh 
This programme is facilitated by Barry Kavanagh who has been providing learning solutions and training for over 30 years.
Barry has completed extensive work in the Nursing Home sector in the last eight years in areas such as in management development and HR management. Some of Barry's Nursing Home clients include FirstCare, Hamilton Park, Our Lady's Manor, Brymore House and Nazareth House. 
Barry also works with organisations, teams and individuals as a professional coach and trainer. He specialises in the development of soft skills for participants who want to improve their skills in the areas of management, communication, customer service and sales. Barry's style is engaging, supportive, charismatic and pragmatic.
Module Overview 
This programme will include these modules: 
Module 1:  Introduction to Management and Leadership
Module 2:  Client Focused Communication Skills
Module 3:  Building 'Client Friendly' Teams and Conflict Management
Module 4:  Strategic Management
Module 5:  HR & Employment Law (Online Virtual Classroom)
Module 6:  Coaching Continuous Improvement
Course Outcomes
At the end of this Nursing Home management and leadership course you will be able to:
Adapt your management style and practices to provide a service that complies with the National Quality Standards for Residential Care Settings for Older People
Provide proper governance of a well organised Care Setting
Develop management skills and practices that create high quality teams, and then inspire them to deliver excellent person centred care for residents
Increase your influencing skills by developing clear and effective communications with patients, relatives and staff
Productively and constructively identify and resolve issues affecting the needs of residents
Course Details
Course

Dates

29th August, 05th September, 19th September, 26th September and 10th October BOOK BEFORE THE END OF JUNE TO RECEIVE A 10% DISCOUNT

Time

09:00 - 17:00

Duration

5 days & 2 one hour online virtual classrooms

Location

Harvest Training, Santry, Dublin 9

Accreditation

QQI Level 6 Leadership Minor Award (6N2191)

Price
Course

Dates

30th August, 06th September, 20th September, 27th September, 11th October BOOK BEFORE THE END OF JUNE TO RECEIVE A 10% DISCOUNT

Time

09:00 - 17:00

Duration

5 days & 2 one hour online virtual classrooms

Location

Athlone, Venue TBC

Accreditation

QQI Level 6 Leadership Minor Award (6N2191)

Price
Calendar & Booking
Register Interest
Download Brochure