18 December 2018
Submissions now open for consideration for the Pearse Walsh Award 2019
Harvest is delighted to continue supporting the IITD National Training Awards through the Pearse Walsh Award, for Innovation in the Transfer of Learning to Employees.
The IITD National Training Awards, now in its twenty-first year, is recognised as the premier Learning & Development event for industry.
The Pearse Walsh Award is given in recognition of our late founder Pearse Walsh and his passion for innovation and creativity. Harvest proudly sponsor this award to honour the memory and life's work of Pearse Walsh.
The applications for the Pearse Walsh Award are now open and your organisation can be the winner of 2019!
Please go to https://iitdawards.ie/apply for more information about how and when to access the application form. Applications can be submitted by 25th January 2019.
To be eligible, you or your team must have participated in the design and delivery of a high impact learning event that showed innovation in the transfer of learning to employees.
Was your event fun, engaging, innovative and added real value to participants?
If so, then please complete the application form and tell us all about it.
The prize includes:
• Specially commissioned Pearse Walsh Award
• €5000 of consultancy fees with Harvest's expert team
• €1000 in cash to celebrate with your team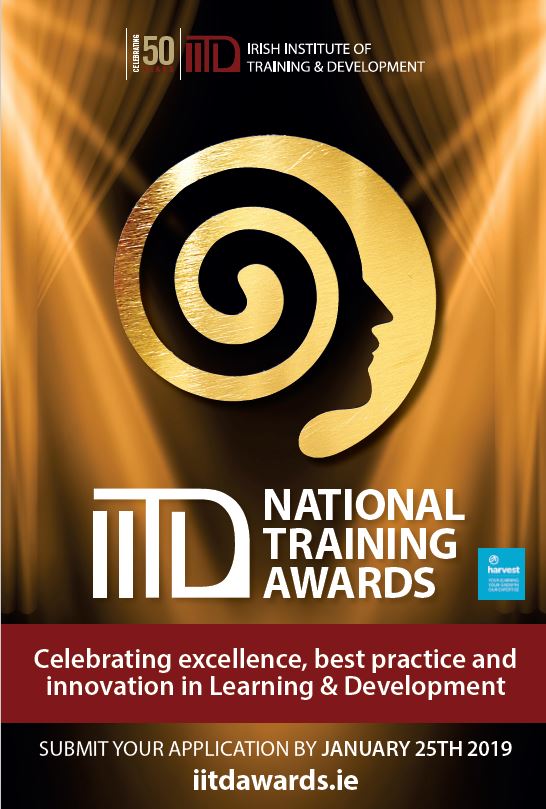 Background to the Award
Pearse Walsh founded Harvest over thirty-four years ago. His vision for developing outstanding learning and development still informs the Harvest strategy today.
The Pearse Walsh Award celebrates and recognises the qualities that Pearse valued when working with clients – a sense of innovation, achievement and fun, to deliver an engaging and practical learning solution.
We are proud that the Pearse Walsh Award is now in its thirteenth year.
Past winners:
2018 PWC
2017 Bank of Ireland and cut-e
2016 Blizzard Entertainment
2015 Irish Distillers Pernod Ricard
2014 Calor Gas
2013 ICBE with Lake Region Medical
2012 Learning Zone
2011 The Musgrave Group
2010 Irish Distillers Pernod Ricard
2009 Topaz
2008 Ulster Bank
2007 Ernst & Young