12 March 2019
Harvest Client Mentoring Breakfast: In-house Mentoring Panels & Best Practice Case Studies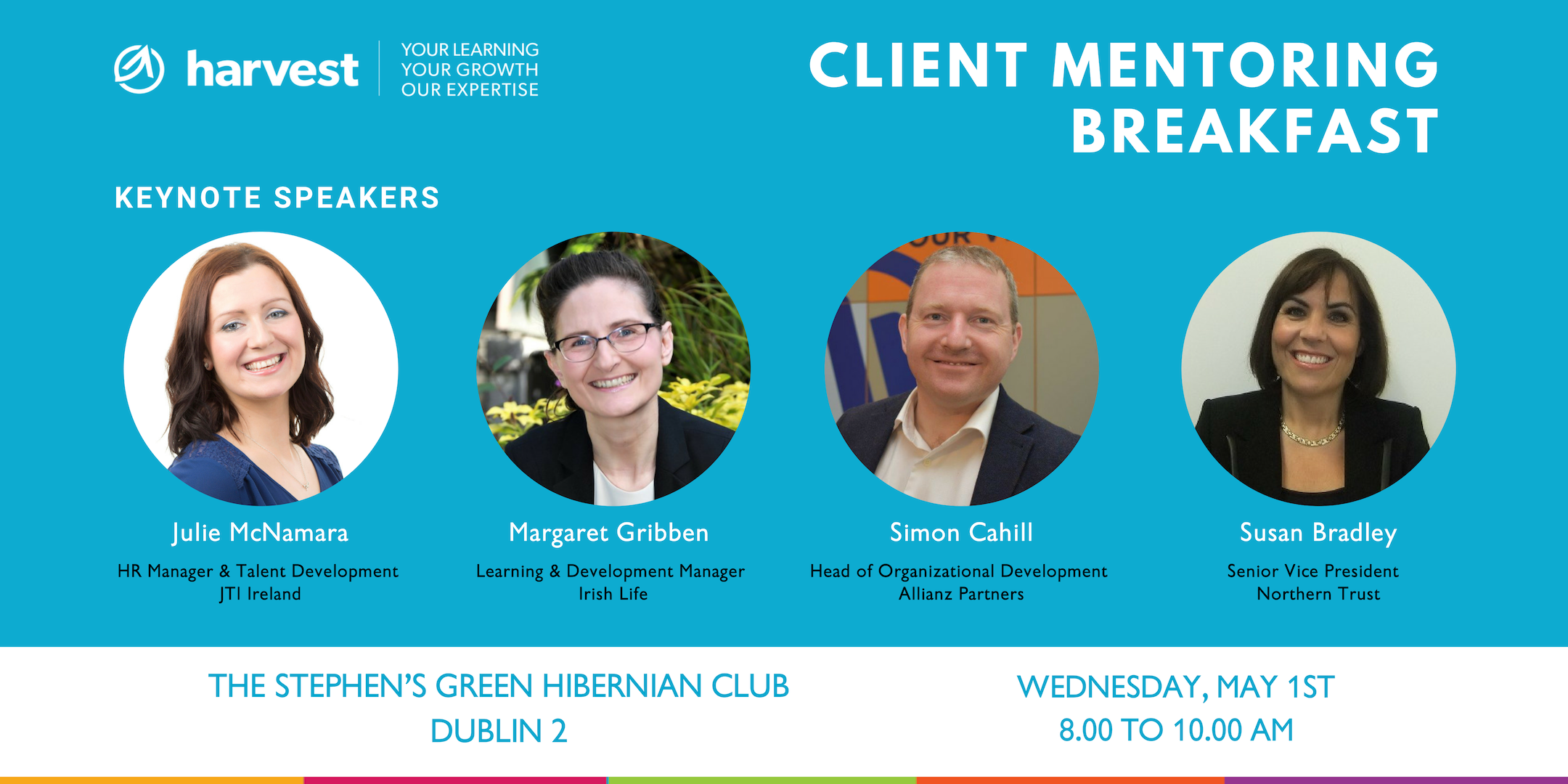 DON'T MISS OUR FIRST CLIENT EVENT OF 2019: IN-HOUSE MENTORING PANELS & BEST PRACTICES STUDIES
Harvest, with over 30 years of learning design and delivery experience, is delighted that four of our clients will share their experience of success when setting up in-house mentoring panels. On the 1st of May, we will share the platform with:
• Julie McNamara– HR Manager & Talent Development at JTI Ireland
• Margaret Gribben– Learning & Development Manager at Irish Life
• Simon Cahill – Organizational Development at Allianz Partners
• Susan Bradley – Senior Vice president at Northern Trust
Who will present on:
• Why they chose in-house mentoring as a development intervention?
• The steps that they followed for success
• Lessons learnt and recommendations for their peers
• What is next for their mentoring programme?
Our first Client Breakfast event of 2019 will be held in the Stephen's Green Hibernian Club, on morning of the 01st of May 2019 (8.00 am to 10.00 am).
Expect great insights:
• To educate you on best practice approaches to mentoring panels
• That will inform your approach to setting up a panel
• To enhance your existing in-house mentoring panel
• From industry peers who you can network with and share some like – minded thinking
Event information:
Wednesday, 1st May 2019 – from 8.00 to 10.00 am
At The Stephen's Green Hibernian Club, 9 Saint Stephen's Green – Dublin 2
If you would like to join our team on the day, please contact us: hello@harvest.ie