1 March 2020
Pearse Walsh Award 2020 Shortlist Announced 
Pearse Walsh Award 2020 For Innovation in the Transfer of Learning to Employees
Announcing the Shortlisted Finalists for the Pearse Walsh Award 2020
1st March 2020
Harvest is pleased to announce the shortlist for the Pearse Walsh Award 2020.
The three shortlisted finalists are:
Organisation: Irish Distillers
Submission title: YourFUTURE – our graduate off-boarding programme
Organisation: Lidl Ireland
Submission title: NEW2, New You
Organisation: Musgraves on behalf of Supervalu
Submission title: Leading for Growth – a Store Owner Leadership
Congratulations to all the shortlisted finalists. We look forward to celebrating your achievements and announcing the overall winner at the IITD National Training Awards Gala Dinner in the Kilashee House Hotel, Nass on Friday 24th April 2020.
We would also like to thank the organisations that took the time to submit their applications.
The Pearse Walsh Award 2020 shortlist was selected by a judging panel of three Learning and Development professionals Nicola O'Neil, Harvest MD; Eammon Eaten, Senior Learning Specialist at Harvest and Outstanding Individual Contribution to L&D winner at the IITD Awards 2018 and Una Healy, Group Head of L&D at PM Group, last year's PWA winner.
The Harvest team extend our gratitude to the judges for bringing a wealth of experience to the evaluation process, we are very grateful for their time and expertise.
The Pearse Walsh Award 2020 winner will be in good company as Harvest has supported the achievements of the distinguished winners below:
2019 PM Group
2018 PwC
2017 Bank of Ireland and cut-e
2016 Blizzard Entertainment
2015 Irish Distillers Pernod Ricard
2014 Calor Gas
2013 ICBE with Lake Region Medical
2012 Learning Zone
2011 The Musgrave Group
2010 Irish Distillers Pernod Ricard
2009 Topaz
2008 Ulster Bank
2007 Ernst & Young
For a list of all the shortlisted finalists at the IITD National Training Awards please click here.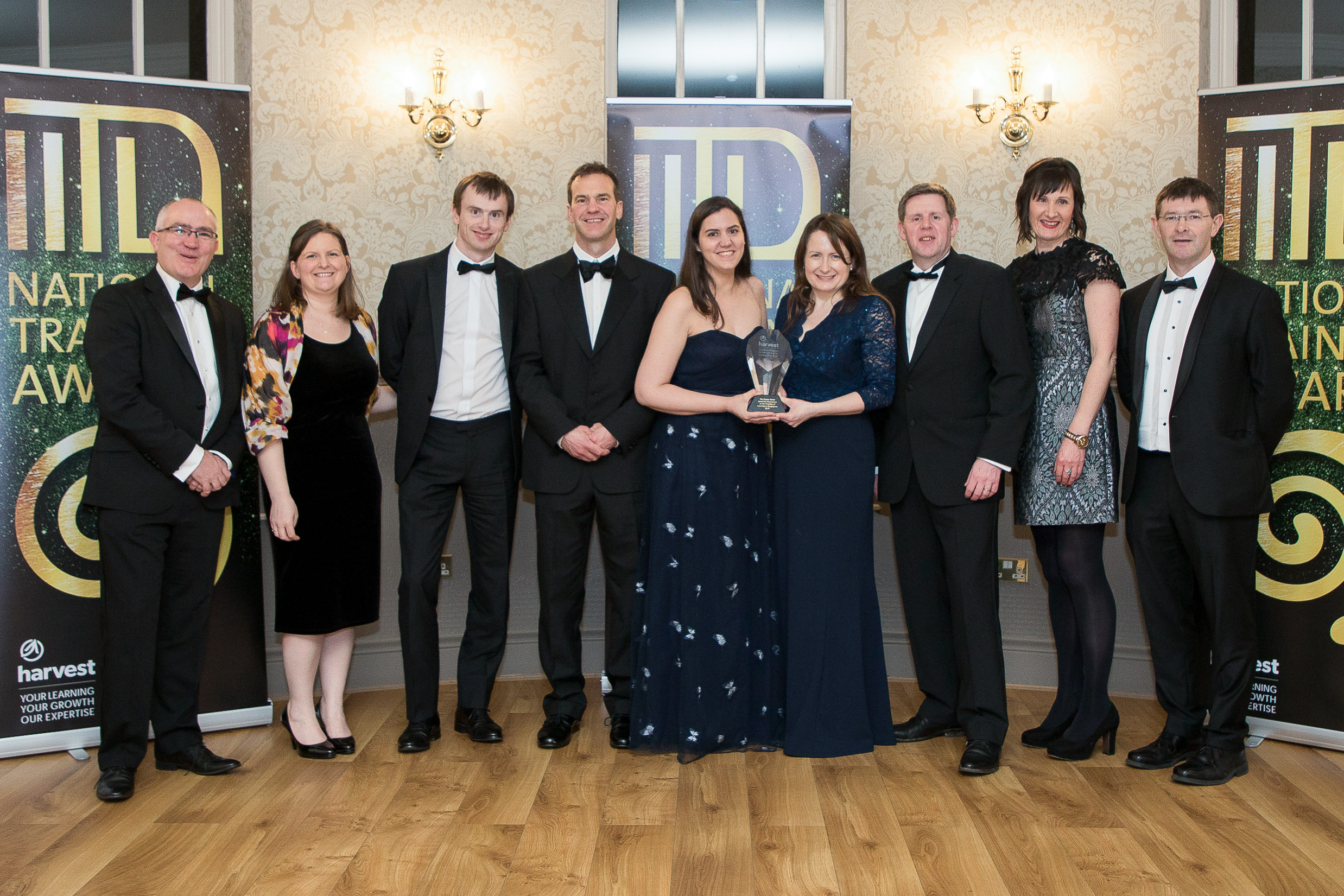 Photo: PM Group – Pearse Walsh Award 2019 winners (Photographer Brendan Lyon)
---
Author: Ana Tyrrell – connect with her on LinkedIn.
Want to keep up to date with all the trends & insights from the world of work and learning? Follow us on LinkedIn: https://www.linkedin.com/company/harvest-resources_2/