5 February 2019
The Pearse Walsh Award 2019 – Judging Panel Confirmed
05th February 2019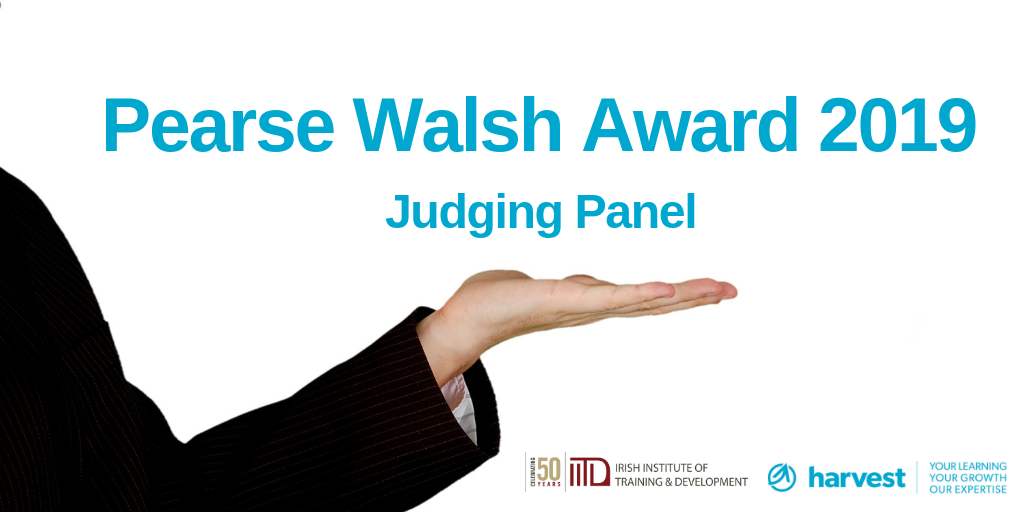 Harvest are delighted to announce that Sheila Curtin, Head of Centre for Learning and Development at PwC and Jenni Heddermann Creative Director, Brand Strategist and Founder of Illuminate Creative Consultancy, will join Frank Rock, Director at Harvest on the judging panel for the Pearse Walsh Award 2019.
The judges contribute a wealth of experience to the evaluation process and we are very grateful for their time and expertise.
The shortlisted finalists will be announced on Sunday 17th February. The Pearse Walsh Award winner will be announced at the IITD National Training Awards 2019 gala dinner in the Kilashee House Hotel on Friday 29th March.
The Judging Panel
Sheila Curtin leads the PwC Centre for Learning & Development Team since 1997. Sheila has extensive experience in the design and delivery of Management and Leadership Programmes. She is also an executive coach for senior managers within PwC.
Sheila and her team were also the winners of the Pearse Walsh Award 2019 for their programme: Innovation Through Involvement – The Transformation Endeavour.
Jenni Heddermann is the founder of illuminate Creative Consultancy, a creative consultancy with a clear objective to offer clients a holistic creative response founded upon a wealth of creative, strategic and design expertise. Jenni had partnered with Harvest on our brand journey over the years and has an in-depth insight into the learning and development profession.
Jenni is responsible for the creation of many nationwide and international brands such as Diageo, SuperValu, Centra, and Keelings, among others.
Frank Rock is a Director and Senior Partner at Harvest. He has more than twenty-six years' professional experience including over fifteen years working in Friends First where he was a HR Business Manager, with responsibility for change management for the Friends First Group.
Frank's expertise is in the areas of coaching, mentoring, leadership, talent development, sales effectiveness and employee development. He is passionate about improving personal and organisational performance by helping people at all levels to understand why they are on the payroll and how their contribution affects the bigger picture. You can learn more about Frank here.
The 2019 winner will join the list of distinguished winners below:
2018 PwC
2017 Bank of Ireland and cut-e
2016 Blizzard Entertainment
2015 Irish Distillers Pernod Ricard
2014 Calor Gas
2013 ICBE with Lake Region Medical
2012 Learning Zone
2011 The Musgrave Group
2010 Irish Distillers Pernod Ricard
2009 Topaz
2008 Ulster Bank
2007 Ernst & Young